I've been very busy flitting around the country for the last couple of weeks and my laptop suddenly decided it didn't like electricity which isn't really conducive to blog posting. I've seen some beautiful exhibitions and purchased some gorgeous fabrics so it was all worth while.
First off was the V&A's
"Quilts: 1700 - 2010" exhibition
.
There were some beautiful quilts from centuries ago but I was very disappointed with the modern day examples. With all of the amazing artists out there making gorgeous quilts, why did they think Tracy Emin's dirty bed would be a good use of their funds? And sheets of silk billowing from the ceiling may be beautiful but they most definitely are not a quilt!
Rant over. While I was in London I got to meet up with some good friends that I haven't seen in a while and catch up on the gossip. I also got a private tour of the foreign office which is very fancy.
On to Leeds where I stopped in to visit the boyfriend who is in complete exam stress meltdown. I took him to York for the day to try and relax him a bit and to celebrate his birthday. We went to Jorvik Viking Centre (stinky as ever), York Castle Museum (oddly had nothing to do with Castles or York), wandered around the shops and then I dragged him to the
Quilt Museum and Gallery
run by The Quilter's Guild of The British Isles.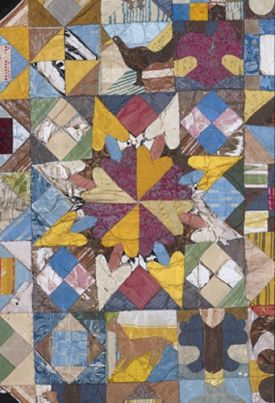 I felt very guilty for making him go there on his birthday but at the end of the day he said that it was the best thing we did all day. It was beautiful, some unusual examples of quilting with very knowledgeable ladies around to chat to and answer all your questions.
It's good to be home though, I'm getting cracking with the Wedding Quilt and trying not to get distracted by all my other purchases. More about them soon ...